Latisse
New York City Latisse Provider Dr. Brazzo Eyelash Lengthener in Manhattan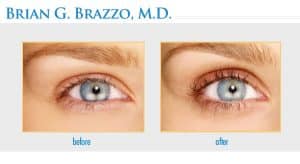 Latisse is a prescription treatment that stimulates eyelashes to become longer, thicker and darker.
It is believed to affect the hair growth cycle by increasing both the length of the growth phase and the number of hair follicles in the growth phase. Latisse is the first and only prescription treatment approved by the FDA for inadequate or not having enough eyelashes, growing them longer, fuller and darker.
How do I apply Latisse?
Latisse solution is a once-a-day treatment you apply each evening to the base of the upper eyelashes. You should always only use the FDA-approved sterile applicators to apply Latisse directly to the base of your upper eyelashes. The applicators have been specially designed and manufactured to meet FDA standards.
How soon will I see results?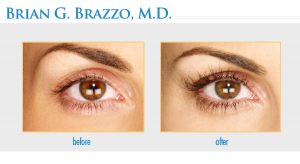 New York City Latisse users may see results starting at 8 weeks with full results at 12 to 16 weeks. The growth is gradual, over time.
Is Latisse a replacement for mascara?
Latisse does not work in place of mascara. It is a solution treatment for inadequate or not enough lashes and requires a prescription from a doctor. However, mascara can be used on your eyelashes in addition to Latisse.
What if I forget to apply one night? Or a few nights?
If you miss an application or a few, don't try to catch up. Just apply the Latisse treatment the next evening and stay on schedule.
What happens if I stop using Latisse?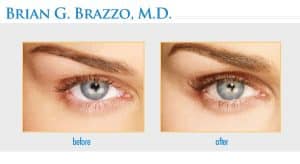 If you stop using Latisse, your eyelashes are expected to return to their previous appearance over several weeks to months.
How do I get a prescription for Latisse?
You should make an appointment with NYC oculoplastic surgeon, Dr. Brian Brazzo, who will evaluate your eyes and lashes during a baseline examination. You will receive a prescription that can be filled in a pharmacy and be scheduled for follow-up appointments at six-month intervals. Dr. Brazzo has helped many Latisse New York City patients obtain naturally beautiful, longer, thicker and darker eyelashes.
A successful Manhattan ophthalmic plastic surgery provider, Dr. Brazzo performs a range of surgical and non-surgical facial treatments and has helped countless blepharoplasty New York City patients overcome ptosis, as well as cosmetic concerns affecting the upper and/or lower eyelids. Dr. Brazzo also administers facial fillers and Botox in Manhattan.